Once you have determined what size and type of warehouse you need, you will want to go out and look for space.  (Actually, you can have some people start finding out about options while others are defining the need).
You will have two types of options when it comes to Warehousing space
Existing warehouse space in town, or nearby
Empty sites that could be turned into a warehouse space:  locations where we can put up temporary facilities, such as tents, rub-halls or container buildings.
The first option is preferable because it should allow you to get up and running more quickly.  However, if there is no space available, you can work with empty lots.
Come up with a list of possibilities by talking with
Other INGOs, UNJLC, WFP, the Logistics Cluster, local NGOs
Local Caritas
Local Catholic parishes, diocesan offices
Local business people
Religious & other community leaders
Government offices
Ask them
About space:

Do they have excess space we could use?
Do they know of warehouses or empty lots that are available?
Are they also looking for space and could we possibly look for a common space?

About other warehousing details:

Is there equipment (pallets, shelving, etc.) available locally, and if so, where and at what cost?
What are the availability, capability and cost of local labor?
The next step, step 3, is to evaluate each of the possible warehouses.
Mobile Storage Units
Mobile Storage Units (MSUs) or movable warehouses (often referred to as WiikHalls or RubbHalls) are used for storage where hard structures are unavailable or inadequate. MSUs are most often used in sizes between 10×20 meters to 10×32 meters. Most systems can be erected in 4 meter lengths, allowing for customization between these sizes. They are steel or aluminum frame (aluminum being much lighter and therefore cheaper for shipment) with heavy polyester cover.
MSUs should be erected on flat hard earth, on raised elevation to protect against flooding. When planning locations, care should be taken that trucks have sufficient access. Pallets should be used to raise stored goods off the ground.
It is possible to install MSUs with local labor – WFP will often provide technical oversight if requested. WFP contractors, private companies and other CRS offices are also options for support in erecting the MSUs.
These warehouses should be ordered as soon as possible, as quotation process and shipping can be quite time consuming. MSU transport crates are too large for commercial airlines, so transportation will be via sea or large cargo planes. When UN and other agencies are present, CRS should coordinate with them to identify collective shipping options or possible orders from UN.
For planning the size of warehouse needed, WFP estimates a 10x24m MSU can store 350-500 metric tonnes of food goods; 10x32m will hold 500-750 metric tonnes.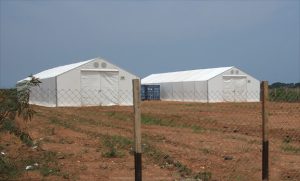 Procurement location:  If possible purchase locally if the product is from a reputable supplier and the cost is comparable to cost of sourcing regionally or through HQ factoring in for transport. Otherwise source regionally, from nearest UNHRD hubs or directly from providers.
Manufacturer links: 
http://www.obwiik.com/aid-and-relief
Oxfam code:   AWH/1
Shipping and cost details:
| | | | | | |
| --- | --- | --- | --- | --- | --- |
| Item | Packaging | Weight | Dimensions | Volume | Costs |
| 10m x 24m Wiik Hall | 14 Wooden Crates | 2,371 kg | Various | 4,508L | $18,000 |
Specifications:
Aluminum frame
Fabric: UV stabilized PVC coated polyester
Fabric weight: 700gsm
Temporary Accommodations
Tents can be used for short to medium term staff accommodation and office facilities. It is important to purchase high quality, durable tents and to ensure that all necessary parts are included in packaging. Tents should also be purchased with specific local climate in mind – proper water-proofing, wind resistance, ventilation and insulation are essential.
The type of tent used for staff accommodation should be chosen with expected use in mind – sleeping or office use.
Evaluate Warehouse Options
When you visit potential warehouse sites, you'll look at three different aspects of the facility and location:
Do the site and building meet our operational needs?
Is it secure?  We provide three resources here that should help you determine this.

Protecting CRS Buildings (from Safe & Sound)
Security Management Assessment Checklist, Sections 1 & 2 (from Safe & Sound)

What is the price (and other lease details)?
The attached Considerations When Choosing a Warehouse Site lists many of the aspects you should look at when evaluating possible warehouses.
NOTE:   Ideally, a warehouse will have inside of it a separate area that can be used as an office.   If you can, find a building that has an office that is physically separated from the main warehousing space and has a separate entrance.
When you've found the best site for the money, move to step 4, signing the lease.
Sign Warehouse Lease
Once you've evaluated your warehouse options and selected a warehouse, you'll be ready to sign a lease.
First ask for the country program's lease template and use that.  This should have been reviewed by local council and meet all HQ standards.
If there is no CP, or they don't have a template, and the region doesn't have one they want you to use, use the following template:
Contract – Warehouse or Facilities
If a potential landlord presents you with a lease he'd like to use, use the tool linked below, the lease checklist, to check it against our policies.  Then, if anything is missing from the landlord's lease, try to add it.
Lease Agreement Review Checklist
There are two things you should do before discussing any lease:
Find out about Typical Terms and Conditions in the Area

Talk to other NGOs/partner organizations in the area before discussing a lease with the owner, to get an idea of rental prices and any special terms/conditions that may be considered normal for that area.

Discuss and List Renovation Plans

Before signing a lease, make sure to discuss with the landlord any renovations you plan to undertake.   Discuss them in detail.  List improvements that CRS will be leaving behind once the lease is over (e.g., permanent structures, plumbing and wiring improvements) and what CRS will take with it (e.g. solar panels, generators, water storage tanks, water heaters).  You'll want to make sure you and the landlord are on the same page.

Some renovations may be highly valued by the owner, and if so, the anticipated value of these additions can be used to negotiate a reduced rental rate, a longer lease, or better renewal conditions.

In other cases, the owner may want aspects of his property restored to their original state and we should know that before we enter into the contract.

All renovations and agreements about how the property will be left must be detailed in the lease. 
When you've signed the lease, the first thing you'll want to do is assure the safety and security of the facility.
Address Warehouse Safety and Security
After signing the lease for the warehouse, the first thing you'll want to do is make sure it is safe and secure.  For help with this see the FACMM material on Warehouse Safety and Security, pp 54 -56. You can find the whole FACMM document by clicking here.
Those English-language pages are attached here, locally.  If you are using this manual off line, you can still access the document from the link below.
English – Warehouse Safety and Security, FACMM Excerpt.
Français – Sûreté et Sécurité de l'Entrepôt, FACMM