---
This section is extracted from the CRS Managing Post-Disaster (Re)-Construction Projects, How to Guide, 2011. Refer to the full guide for detail. Additionally, job descriptions for key shelter positions are also provided on the EFOM Human Resources under the WASH/Shelter Section.
According to the assistance options and the selected implementation options appropriate staffing structure should be designed. Consider timing, and scale of outputs required. The team structure will be different if implementing through owner driven construction or if a contractor is commissioned.
The structure below offers an example of a team structure where CRS is responsible for ensuring that a project is carried out by the program participants themselves. There are three main functions to this structure, led by the Program Manager. There is an engineering team (light grey color) and a community engagement team (light orange color). The need for a dedicated Housing Land& Property / Land Security and Tenure Officer (light blue color) will be context dependent. This role will typically require an experienced individual with a legal background.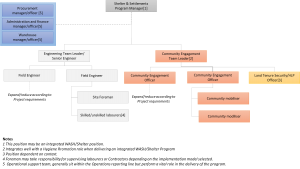 CRS has successfully used this structure to deliver S&S dedicated programs and integrated WASH and S&S programs. Integrated teams are encouraged as this can allow for a more efficient use of CRS' resources and a streamlined point of reference from the perspective of the community with which we work.
If CRS is managing the construction activity directly or through multiple contracts requiring significant administration, contract management, and procurement of material and equipment supplies, logistics and warehousing are the responsibility. Adequate staffing and administrative systems will be required to ensure accountability and control over material and equipment assets. Program support staff needs to communicate frequently and closely with the technical and community engagement teams.
The Operational support team, not shown within the core S&S team structure, generally sit within the Operations reporting line but perform a vital role in the delivery of the program. As such, when designing the program it is essential to ensure these positions are budgeted:
Procurement manager/officer: The procurement/contracts manager and supporting officers are responsible for preparation of tender actions (tender packages for materials, suppliers, tender evaluations, etc.), purchase orders, and monitoring material and equipment cost, delivery and quality.
Administration and finance manager/officer: The administration and finance manager and supporting officers are responsible for preparing contracts, bid selections, labor payments, contract and payment tracking.
Warehouse manager/officer: The warehouse manager and supporting officers are responsible warehousing/logistics of materials and equipment that support construction activities.
2.4.b) Identifying Appropriate Staff
An important lesson-learned from CRS construction activities is that project success depends on the qualifications, skills and experience of the technical and management resources engaged to manage the project. Careful but expeditious vetting of potential candidates is critical in creating highly performing teams. Within the engineering and construction industry, a four/six-year engineering degree normally represents the foundation on which individuals will build different levels of experience and skills, especially in post-disaster situations.
Beyond that, the years of experience and breadth of exposure to different construction designs of varying complexity develops the needed qualifications to manage different types of construction projects. Senior staff will be required to have a balance of the technical skills and social skills to lead a program, and the ability to think creatively about resolving conflict and technical issues without losing sight of the overall project goals: rebuilding livelihoods and reducing vulnerability.
CRS and partner staff are encouraged to contact CRS' Humanitarian Shelter & Settlements team directly for support with team planning and recruitment of key position.