Mobile Storage Units (MSUs) or movable warehouses (often referred to as WiikHalls or RubbHalls) are used for storage where hard structures are unavailable or inadequate. MSUs are most often used in sizes between 10×20 meters to 10×32 meters. Most systems can be erected in 4 meter lengths, allowing for customization between these sizes. They are steel or aluminum frame (aluminum being much lighter and therefore cheaper for shipment) with heavy polyester cover.
MSUs should be erected on flat hard earth, on raised elevation to protect against flooding. When planning locations, care should be taken that trucks have sufficient access. Pallets should be used to raise stored goods off the ground.
It is possible to install MSUs with local labor – WFP will often provide technical oversight if requested. WFP contractors, private companies and other CRS offices are also options for support in erecting the MSUs.
These warehouses should be ordered as soon as possible, as quotation process and shipping can be quite time consuming. MSU transport crates are too large for commercial airlines, so transportation will be via sea or large cargo planes. When UN and other agencies are present, CRS should coordinate with them to identify collective shipping options or possible orders from UN.
For planning the size of warehouse needed, WFP estimates a 10x24m MSU can store 350-500 metric tonnes of food goods; 10x32m will hold 500-750 metric tonnes.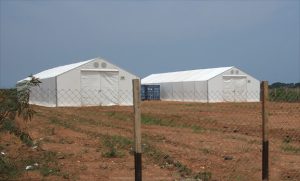 Procurement location:  If possible purchase locally if the product is from a reputable supplier and the cost is comparable to cost of sourcing regionally or through HQ factoring in for transport. Otherwise source regionally, from nearest UNHRD hubs or directly from providers.
Manufacturer links: 
http://www.obwiik.com/aid-and-relief
Oxfam code:   AWH/1
Shipping and cost details:
| | | | | | |
| --- | --- | --- | --- | --- | --- |
| Item | Packaging | Weight | Dimensions | Volume | Costs |
| 10m x 24m Wiik Hall | 14 Wooden Crates | 2,371 kg | Various | 4,508L | $18,000 |
Specifications:
Aluminum frame
Fabric: UV stabilized PVC coated polyester
Fabric weight: 700gsm